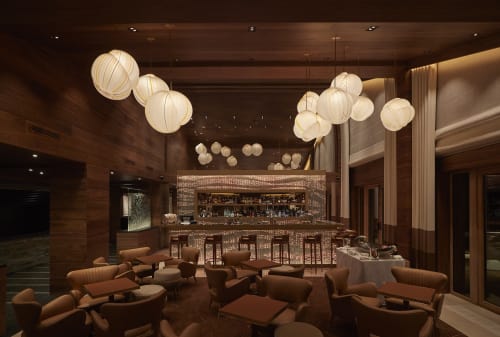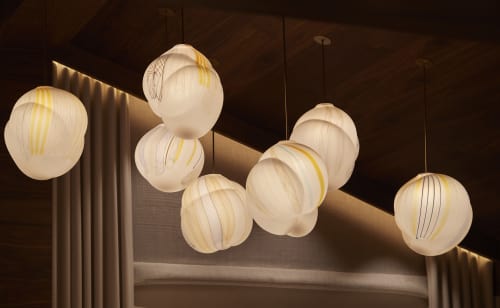 Image credit: Jeremy Josselin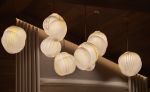 +1
30 Clouds is a light installation which forms a Milky Way of Clouds—illuminated hangings and unique glass works that are entirely freehand-blown, measuring about sixty centimeters in diameter. In its aeriality, it symbolises time's passing and suspension. Its contemplative essence is sublimated by its contemporary and pure aesthetic, which presents smooth shapes in diaphanous colours—their evanescent aspect reinforced by their sanded surface—and colour filaments in a variety of patterns with dominant yellows, pinks and blues, technically advanced filigrees that revive the Venetian glass-blowing tradition. The brass hanging system is also handmade, and the LED lighting system is customised.
Hung along fifteen meters, above the Bar Edmond and Le 1920 restaurant, thirty Clouds poetically inhabit those two adjoining spaces. A roof separates them from the sky, but large bay windows make it possible to see them majestically floating on the surrounding mountains. The warm gentleness of their light and their velvety whiteness echo those of the landscape outdoors. The dominant colours of the filigrees recall the various colours that the sun shines on mountains in the course of its trajectory, including the colourful effusions that accompany the sunset.
30 Clouds even goes as far as influencing the aesthetics of the tableware that it flies over, which was also created by Jeremy Maxwell Wintrebert in collaboration with Julien Gatillon, the two-star chef of Le 1920.
Have more questions about this item?