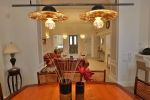 +5

Featured In Villa Vaporetto, Ermoupoli, Greece
Price from $1,440 to $1,478$1,440-$1,478
The specific project was held in "Villa Vaporetto" in Syros, Greece.
It included a suspended light fixture described as follows:
Bar 150cm/59" length in Wrought Iron
2 "Sun" ø47cm/1-19"/1 in Gold
Light bulbs in leaf of Gold
HANDMADE CREATION:
- Every Light fixture is accompanied by a Certificate of Authenticity signed by the designer
- Height is adjustable to the requirements of each space
- Light bulbs E27-G125: NOT INCLUDED (not available for 110V)
- Available both in 220V/110V (mark your preference on the notes' field before completing your order)
OPTIONS:
• Sun's Finish
- Gold
- Silver
- Copper
• Light bulb (not available for 110V)
- NO Light bulbs
- Clear
- Leaf of Gold or Silver or Copper (according to light fixture's finish)
Contact for more info
Shipping: Standard Shipping 10-15 days
Free Shipping in the US, ask the creator about international shipping.
Estimated Arrival: March 20, 2022
Returns accepted within 7 days
See details
Have more questions about this item?