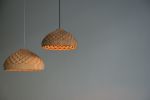 +5

Nest Pendants
Featured In Osten Cafe, Hamilton, New Zealand
Inquire about Comissioning a Custom piece
A pendant lighting fixture that pays homage to the honeycomb architecture of a bee's nest.
The interlocking segments are inspired by natural geometry and create a lightweight yet robust construction.
Made from Bamboo, assembled without the use of glues or adhesives and utilising natural timber finishes for optimum levels of interior air quality.
From 400mm Diameter, to 2.5m Diameter custom.
In bamboo, from $511 USD. Also available in https://eltongroup.com/eveneer/
Have more questions about this item?