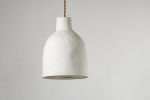 +2

Handshaped Porcelain Pendant with a closed bottom
Featured In Mint, London, United Kingdom
Custom Options Available.
Ask The Creator
For Customization.
The clear forms of this pendant have been modelled in clay by hand, thus receiving its characteristic somewhat irregular surface and shape. The seemingly solid, monumental object, emphasized by the closed off bottom, completely transforms when it is lit from the inside. Its unexpected transparency brings the material to life and shows off it's full, warm light.
The lamps are produced manually in the artist's own studio, cast in bone china. This material is often associated with classic, refined English tableware, but the sculptural shape makes it appear solid and monumental. The unglazed bone china in these objects – with their irregular shape and 'skin' – has a solid appearance which creates an intriguing tension with the translucent qualities of the porcelain.
Each casting has its own distinct design that only becomes visible when the form is illuminated from within. The design consists of drips, drops, trapped air bubbles, pinholes and other irregularities in the cast material, which give the lights their lively character. Moreover, the finishing and the firing processes influence the final shape and surface of the lights. Each light is therefore unique.
Shipping: UPS 4-5 days
Price $50
Shipping in the US, ask the creator about international shipping.
Estimated Arrival: February 13, 2022
| Dimensions | Weight |
| --- | --- |
| 27H x 20W x 20D cm | 0.7 kg |
Returns accepted within 14 days
See details
Item
Handshaped Porcelain Pendant with a closed bottom
Have more questions about this item?