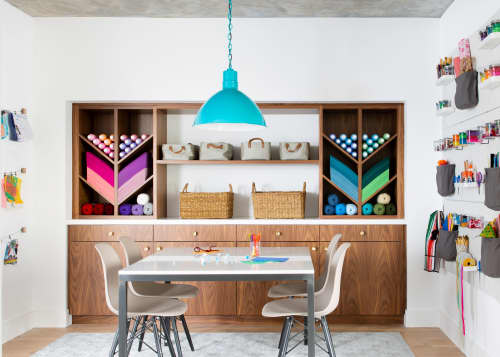 Image credit: Suzanna Scott Photography


+1

Wilcox Deep Bowl Chain Hung Pendant
Reminiscent of vintage designs, the Wilcox's deep bowl shade presents a simple yet striking profile. The Wilcox's curved lines and streamlined shape embody the various styles preferred in contemporary homes and businesses while still complementing more traditionally decorated spaces. A rugged chain mounting imparts a subtle industrial flair to the design and allows easy on-site customization, thanks to the Wilcox's Quicklink chain.
A dependable source of illumination, the entirely handcrafted Wilcox demonstrates the level of quality associated with American made lighting. Constructed from solid metal, the Wilcox can become a long-serving addition to residential and commercial décors. Customize this chain hung pendant with a variety of finish options, cords, and accessories to complement your space's color scheme and decorative sensibility.
Have more questions about this item?