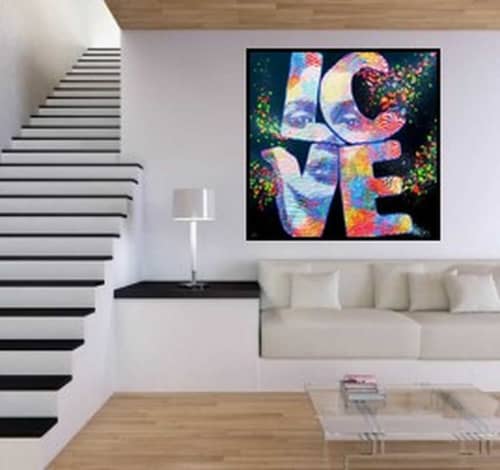 Image credit: virginie schroeder


+6

painting sculpture 3D op art kinetic wall decor
Painting: Acrylic, Oil, 3D Sculpting, Kinetic, Paper on Canvas, Paper, Other.
Painting: Acrylic, Oil, 3D Sculpting, Kinetic, Paint on Canvas, Other, Paper.
size 36x36 inch
Acrylic painting on gallery canvas. Ready to hang.
Virginie Schroeder puts in play lines, circles and other geometric forms to create works with subjects that are not immediately visible. Verbal and psychological interplay with the public is integral to her creative process. Her art is the result of reflection, and of aesthetic intuition provoked by the geometric of forms. Her art exists to intrigue, to elicit questioning of its abstract character visible at first glance. One must focus on a single point, and draw away slightly to begin to glimpse the impressively detailed work in its totality. Above all, Schroeder wants things not to be visible immediately.
In order to perceive the works, the viewer must feel them, open up all of their senses and live them fully. It is insufficient to live the emotion of the work; Schroeder urges the viewer to enter the work, allowing their spirit to be absorbed into its face. Her paintings are made to inspire new artistic visions, while impressing their stunning technicality on the public.
When a face, an animal, a landscape, or any other subject is evacuated of its linear structure, it acquires a completely different form, a different identity and dimension, a new prestige. One does not recognize it at first sight; it emerges as the very process of observation. It is here that the magic occurs, as the viewer consciously discovers a work of abstract character in vivid color which plays upon the tension between the figurative and the imaginary.
Virginie Schroeder seeks an invented, unstructured, a different and yet popular vision, and hopes to awaken our senses in the search for her works.
Shipping: 5 days
$200 Shipping in the US, ask the creator about international shipping.
Estimated Arrival: December 14, 2021
Have more questions about this item?