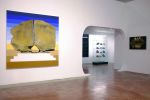 +1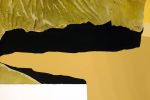 Balance (Masculine/Feminine) - Paintings
MATERIALS: Casein, Acrylic and Grout on Canvas. This body of work titled "Rock Studies" was exhibited in a two person show at Hilde LA titled "Aleph and the Rock" in 2018. Executed in 2017, and exhibited in 2018, the work was a departure from aerial view topographical painting, into visualizing a landscape from a planetary point of view. Flat, saturated pigments are painted next to the grout relief, creating an effect that gives the viewer an illusion of three dimensions on a two dimensional surface.
Shipping: UPS 5-14 days
Free Shipping in the US, ask the creator about international shipping.
Estimated Arrival: November 12, 2021
Have more questions about this item?