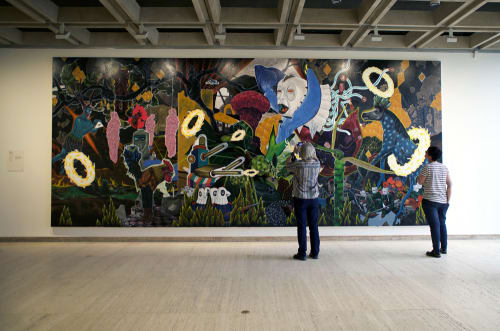 Adda Manok Mo, Pedro? (Do you have a rooster, Pedro?)
Rodel Tapaya's work, Adda Manok Mo, Pedro? (Do You Have a Rooster, Pedro?), is on display at Sydney's Art Gallery of NSW in Passion and Procession. The exhibition is part of the Bayanihan Philippine Art Project, which includes events across multiple venues to celebrate the art of The Philippines, which has often been under-represented in many Australian institutions.
This enormous work is basically about war; the constant struggle of power, conflicts in ideologies, and challenging the boundaries of territories. It's interesting to look into this topic in various ways through some current events, myths and folk stories, religious and ideological perspectives, and also through children's games where power struggles are evident and in constant battle. In the end, war, like games and battles, is a harsh reality where no one ends up the winner.