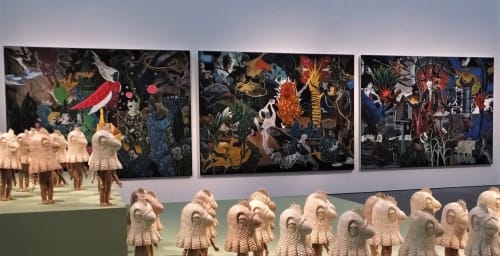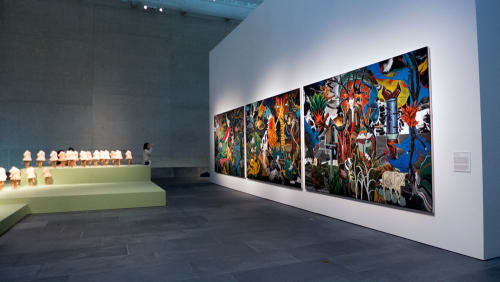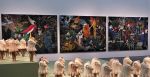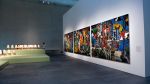 The promise land: the moon, the sun, the stars
In The Promise Land: The Moon, The Sun, The Stars, Tapaya reimagines a creation myth from the Moro-Isolan tribe in Mindanao. A great winged creature (Buwan), whose face is divided by a crescent, stares out at us, her red-feathered form perched against the black of the night sky. A ferocious warrior (Araw), holding his kalis (sword) aloft, is shrouded in the red and orange of a burning flame. He appears to send a flickering and crackling heat in all directions, while the stark white face of a Lumad (indigenous) figure, dressed in traditional textiles of the Bagobo tribe, bleeds profusely, spilling a dark red blood across the scene below.
This compelling work features alongside newly created paintings, sculptural installation and works on paper in Rodel Tapaya: New art from the Philippines, the artist's first solo exhibition in Australia.