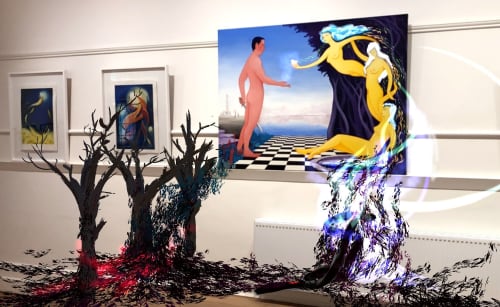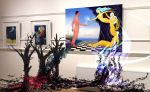 The Well Maidens Painting with Augmented Reality (AR)
Oil painting on stretched linen 184 cm x 138 cm (6' x 4.5') with AR layer revealed via free App: Paynes 4D AR-T
This ancient Celtic myth warns humanity to look after the Earth.
The Well Maidens lived by a well and gave fruit and water in golden goblets freely to travellers. The well was honoured and the land flourished.
A King came by accepting hospitality from the maidens he raped them and encouraged his men to do likewise, then stole their gold and rode on.
The maidens were supernatural with their gift of spiritual nourishment and the well, a sacred conduit being humans connection with Mother Earth.
The violence broke that bond and the AR attached to the painting reveals the result... nothing grew and there was famine.
Item
The Well Maidens Painting with Augmented Reality (AR)
As seen in
Private Residence
, Brighton East, Australia
Have more questions about this item?