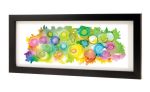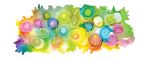 Rainbow Jellies Alcohol Ink Print - Paintings
This is a high quality print of an original artwork. The piece was originally created with alcohol inks, and embellished with a white paint pen.
It is a fun, vibrant, colorful piece that is sure to invoke smiles. An abstract take on flowers, they are playfully referred to as rainbow jellies, because they almost look like an underwater garden full of mythical fantastical jellyfish.
The print measures 15" wide, and 6" high.
Perfect for a room that needs a burst of color. Print will be sent flat, sandwiched between acid-free tissue and firm boards to protect it from bending during shipping.
***DOES NOT INCLUDE FRAME***
Have more questions about this item?