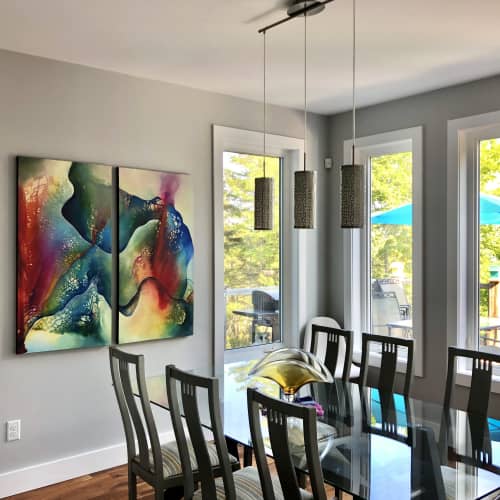 "A Complex Simplicity" diptych - 48"x48" - Paintings
Original Abstract artwork. 'Art has the power to be transformative, to rearrange our vision of the world and create bridges to connect us, to lead us to a greater understanding of the world we share, and those we share it with.
With organic shapes, fluid light, lines and circles, I am employing universal symbols of unity, wholeness and infinity connected by lines, representing the boundaries which separate us, but which also highlights our shared path. What we choose to see and believe will determine how we live, not just where we live. Let's build the puzzle of our life on this planet with care and empathy.'
Original Abstract art, vibrant colours, fluid lines of energy and light. Additional artworks available at www.monikawright.com
Item
"A Complex Simplicity" diptych - 48"x48"
As seen in
Creator's Studio
, Upper Tantallon, Canada
Have more questions about this item?