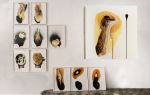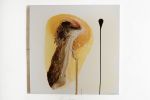 +3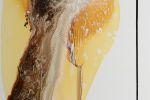 Expello - Paintings
Featured In Napoli, Italy
The works of "Expello" constitute an extremely compact series of papers found on the walls mostly in triptychs.
They are variations from a single and well-defined motif: on each sheet of white paper the image of the artist's head photographed from behind is printed, a pregnant and binding organizing presence that occupies a small portion of the sheet and refers to the uses, less identifiable ovals that are the center of many of his works; from each head it has turned into a more or less complex form without voids inside it found in a triptych with only bitumen and in other uses also enamels and flattening, its leakage in the liquid state; Finally, ample space remains to the white of the support, which clearly defines and reinforces the event of the result resulting from the combination of photographic image and pictorial intervention. The order foreseen by the project this time contradicts the most frequently expected free and impulsive of the artist, who here, although facing a technically audacious and unpredictable test, tries to subdue every aspect of a rigorous discipline
Have more questions about this item?