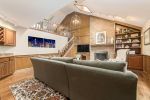 Here It's Not Stars, It's Planes - Paintings
Inquire about Comissioning a Custom piece
When you live in a big congested city, the sky isn't full of stars...it's full of planes. Part of my "Greatest City on Earth" series included in my postcard book sold at the MoMA Design Store.
Two Panel, Print on metal, 72 X 24 inches
Have more questions about this item?