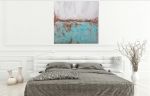 +2

Real Copper Original Abstract Painting Extra Large Canvas
Inquire about Comissioning a Custom piece
This piece is made with real liquified copper and Iron metal. I age the copper and Iron to create patina'd blue with rust and green. The blues are a natural beautiful blue that replicates a white sand beach with crystal blue water. The rusts are deep browns and golds with streaks of red. The un-patina'd copper is a rustic earthy color that shines beautifully when the light hits it.
* HANDMADE Acrylic painting on canvas,
* 48"x48"
* Style: modern, abstract, minimalist.
* Each piece by Me and dated on the back with certificate of authenticity
* Material: Professional acrylic paints, canvas,
Have more questions about this item?