+2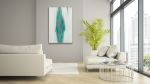 One of a Kind item
Inquire about Comissioning a Custom piece
Item Details
"The Life"
Abstract, Acrylic paint on canvas.
This piece is made with real liquified copper metal, gold leaf, acrylic paint and stucco, modeling paste medium texture. The copper was aged to create patina'd blue and green. The un-patina'd copper is a rustic earthy color that shines beautifully when the light hits it.
Textured abstract is where my paintings really jump off the canvas, giving a new interesting dimension to each piece and making the abstract even more complex.
■ TITLE: "The Life "
■ DIMENSIONS: H 36in. x W 24.5in. x D 2.5in.
■ COLORS: Teal, copper, bronze, gold, gray, white, Gold leaf on a textured background.
■ MEDIUM: Professional grade acrylic paints and mediums. Finished with a clear matte varnish to protect your painting from UV light, moisture and dust.
■ QUALITY: 100% Hand Painted and Created by Ania Prangé / Dragón , San Diego , California, authentic, and personally signed and dated on the back with Certification of Authenticity attached.
■ SHIPPING free shipping in USA.
■ SHIPPING (INTERNATIONAL & ALL OVERSEAS): Please contact for quote.
$1,323.00
FREE SHIPPING