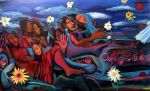 Featured In The Blackstone, Autograph Collection, Chicago, IL
Dream Big" was created by local painter Joyce Owens. It was on show at The Blackstone, an Autograph Collection hotel in downtown Chicago's South Loop. Owens, who paints and sculpts, is a figurative artist whose style of portraiture often addresses issues of race and gender while relating a strong narrative context. Art curation by NINE dot ARTS.
Have more questions about this item?