+1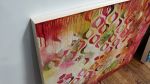 This Kind of Romance - 24"x30" original painting
This is an original painting, 30" x 24" acrylic and fabric on 1.5" deep cradled panel. The sides of this piece are wood that's been sanded and finished with wax, so the piece can be hung without a frame.
"This Kind of Romance" was based on a very traditional textile design of floral bouquets. Its rosy palette will warm up whatever room you put it in.
Shipping: FedEx 4-6 days
Free Shipping in the US, ask the creator about international shipping.
Estimated Arrival: October 31, 2021
Have more questions about this item?