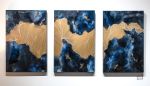 +2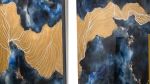 Fjords of Consciousness – Triptych - Paintings
Featured In Iris-Kaplan Center, New York, NY
Gliding in and out of the weathers of consciousness. She calls to me like the wind swerving through the valleys of my dreams. Pausing for a moment, only to be swept along again into the abyss of my wandering aspirations.
.
Created from a multitude of materials such as acrylic, ink, and resin, this triptych was created to fit the on-site surroundings at the Iris-Kaplan center. Nestled in as the centerpiece of the room, the deep blues echo the velvet hues of the couch while the pieces carry bronze tones that accented the space. The glass-like finish that the resin gives this original artwork a sense of depth at every angle.
Shipping: UPS 5-7 days
$50 Shipping in the US, ask the creator about international shipping.
Estimated Arrival: November 14, 2021
Have more questions about this item?