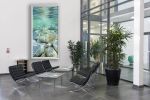 +1

"Day Dreaming" Print - Paintings
Day dreaming was inspired by the wish to be right here, right now, in the calm water. I can feel the warmth of the water on my toes. It really would be like a dream. To forget about all the hustle and bustle of our busy lives and just enjoy nature in all her natural beauty.
$23 Shipping in the US, ask the creator about international shipping.
Have more questions about this item?