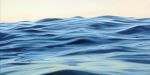 Sea Breeze was inspired by the sun rising over the ocean in Greystones in Wicklow in Ireland. I just love how the water undulates and wobbles. I like to use golden open acrylics when I'm painting. These are slow drying, so they give me more time to blend while at the same time they dry fast enough so I can work on them every day until its finished. The copper house gallery does all of my framings. The quality is amazing! I went for a natural wood finish on this one to pick up the warm tones in the sky.
$23 Shipping in the US, ask the creator about international shipping.
Have more questions about this item?