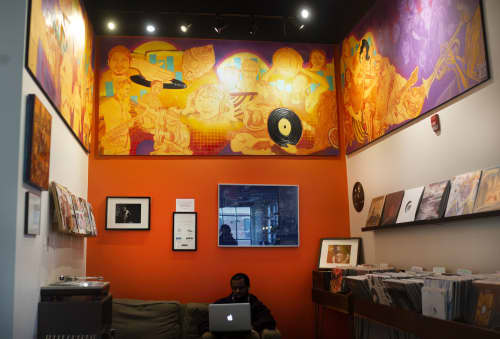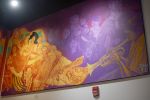 Featured In Bump 'n Grind, Silver Spring, MD
In mid-November 2017, the South Silver Spring Neighborhood Association came together at Bump 'n Grind to explore ways to highlight and celebrate the diversity and uniqueness of our community. The neighborhood association decided to partner with Bump 'n Grind to commission a mural featuring members of our community. We put a call out to the community, asking them to send us images of "themselves with music", which would be incorporated into the mural.
Daniel via "DKHDRAWS" has participated in various DC art shows and has been working to bridge art between deaf and hearing artists in the local art community. it was a surprise to be asked to create a piece centered on music, but Daniel was up for the challenge.
A Deaf painter doing a musical themed art project might sound strange, but to Daniel, it didn't sound like anything at all. The project allowed him to push himself beyond expectations with his own self-taught art skills. In this piece, he looked at the submitted images, studying the musical instruments and facial emotions through his own artistic perspective and was able to interpret them into a one big narrative canvas - creating a visual score with a beginning, middle, and end.
We believe in the power of art and its ability to remind us of our shared humanity. We hope that this mural "Seeing Community Music" helps nourish humanity in our neighborhood.
Have more questions about this item?