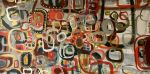 +9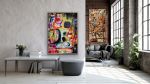 Good Old Silver Lining - Paintings
"Good Old Silver Lining"
Gestural, shapes lines, gold bronze circles, silver mirror acrylic, acrylics, marker lines, bold, rich Fall hues make a huge statement and speak, "look at me I have a lot to say." Illegible script messages with dripping acrylic make this a fascinating expression of Darlene's imagination. Her graffiti style and love of Kandinsky, Klimt, Kooning and Rothko are noticed in this layered, non- objective abstract.
Her gestural and loosely moved brushes create almost circles much like how she drags a pencil, marker, charcoal or pastel through various parts of her originals. There is always an element of surprise when you come across a part of a word, message or shape. A bold abstract that can hang vertically or horizontally in space.
Shipping: DHL 5-7 days
$190 Shipping in the US, ask the creator about international shipping.
Estimated Arrival: November 5, 2021
Have more questions about this item?