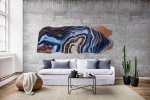 AGATE - Paintings
Featured In Grand Marais, Grand Marais, MN
Inquire about Comissioning a Custom piece
'AGATE I' found its home at The Mayhew Inn in Grand Marais, MN.
Venture to the North Shore and stay at The Mayhew Inn, the only Boutique Hotel in Grand Marais, Minnesota.
The Mayhew Inn is located in the heart of downtown Grand Marais. The views of the harbor and bluffs along the Gunflint trail are incomparable and visible from the expansive rooftop decks. The Mayhew Inn is the perfect home base for enjoying the restaurants and shops in downtown Grand Marais, all walking distance from the Inn. Day trips to Lutsen Mountain, nearby National Parks for hiking or cross-country skiing, or up the Gunflint Trail are all a short drive from the Inn.
The 6 individual units that encompass The Mayhew Inn are uniquely designed and built to be modular. Add to that common spaces that can be shared with larger groups, or experienced alone. The Lobby has a cozy fireplace, comfy seating for lounging, and a nonworking bar with ice maker for guests to enjoy. Entertainment opportunities in the Lobby include games for all ages, a turntable with vinyl from the 60's, 70's, 80's and beyond, and a large screen TV. The "Dragon Lounge" party room faces a majestic outdoor fireplace with a custom pizza oven. This cozy room is the perfect lounge for happy hour or a night cap.
Although The Mayhew Inn is right downtown on the harbor front, it is graced with a gorgeous secluded courtyard and rooftop decks with breathtaking views. There are number of grills on site for family BBQ's. Or enjoy the fabulous downtown restaurants, all within walking distance of The Mayhew. End your evening stargazing around the backyard fireplace.
Every day at The Mayhew Inn is magical, whether it is sunny, brisk, or blustery. Natures year-round magic unfolds right in front of you over the greatest of lakes, Lake Superior.
A bit of history about The Mayhew Inn:
Grand Marais was founded by Henry Mayhew and Sam Howenstein in 1871. By 1873, Henry and his brother Thomas owned a general store in Grand Marais which served as a trading post. This store was located in the approximate location of the current Coast Guard Station. Their brother, Joseph Mayhew, was the first lighthouse keeper in 1886. The Mayhew's had a homestead on the East Bay, and built the first lodging establishment in Grand Marais called The Mayhew Hotel. The Mayhew's old homestead has appropriately been converted in to the now Cook County Historical Society & Museum.
Come experience all that The Mayhew Inn has to offer!
Made With: Epoxy Resin Geode Painting with Acrylic Paints, Pen, Pigments, Rocks, Agates, Crystals and lots of time, passion & energy
Have more questions about this item?