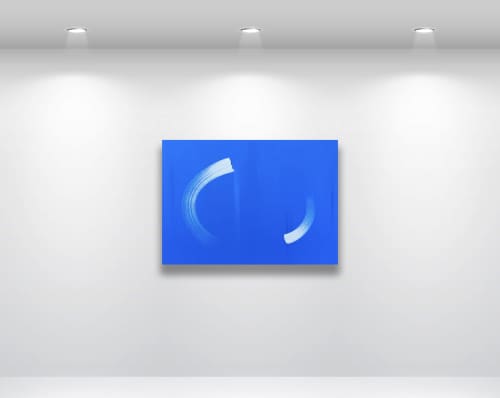 "In The Flesh?" - Paintings
"In The Flesh?"
The Wall Collection
30" x 40"
Oil on Canvas
Part of the ongoing collection based on Pink Floyd's The Wall Album
"In The Flesh?" is the opening song of the album. Paralleling his own conception and birth into life as well as the narrative, Pink invites the audience at one of his concerts and by extension, us the listener to delve into his story.
The opening song propels the audience into the story of The Wall in a thunderous fashion, without any preparation. However, there is a very faint 15 second prelude to this song, in the form of background music with a nearly imperceptible voice. The prelude is from the ending of "Outside The Wall", the last song of the album. The spoken message in the prelude is "we came in?" The first half of that message "isn't this where" comes at the very end of "Outside The Wall." The full message is "isn't this where we came in." This is a classic example of Roger Waters' brilliance. Cycles or connections permeating through the albums.
I've tried to create a welcoming or "inviting" feel with the soft blue. The white swipes, their placement and motion represents the beginning of something, the start of something new.
Medium: Professional grade oils, Heavyweight cotton canvas - gallery wrapped and stretched. One coat of gloss varnish.
Shipping details will be availabe during checkout.
| Dimensions | Weight |
| --- | --- |
| 30H x 40W x 1.375D in | 10 lb |
Returns accepted within 10 days
See details
Have more questions about this item?