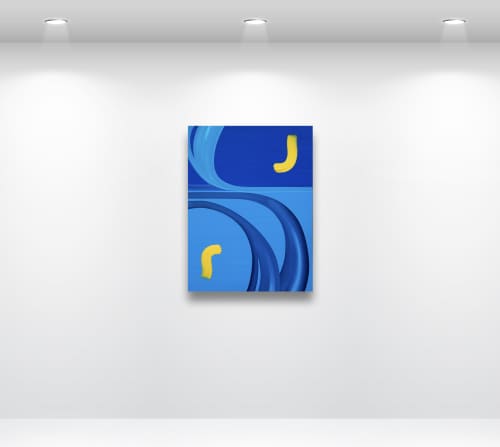 +1

"Harmony" - 30" x 40"
Original Contemporary Abstract Oil Painting
Harmony - A pleasing arrangement of parts; agreement; accord; internal calm and tranquility. This piece is my expression of those states of mind and traits.
Harmony with others, my Higher Power's will, life, everything and everyone around is extremely important to me and something I strive for in my daily walk.
Blue was chosen purposely as it evokes a sense of calm, peace and serenity. The line work, shapes and blending all work together to create a pleasing state of harmony. The large, yellow brushstrokes were added at the very end in a moment of inspiration - again, to capture and evoke a sense of congruence in color and line.
Professional grade oils, Heavyweight cotton canvas - gallery wrapped and stretched. Gloss varnish
Shipping details will be availabe during checkout.
| Dimensions | Weight |
| --- | --- |
| 40H x 30W x 1.375D in | 7 lb |
Returns accepted within 10 days
See details
Have more questions about this item?