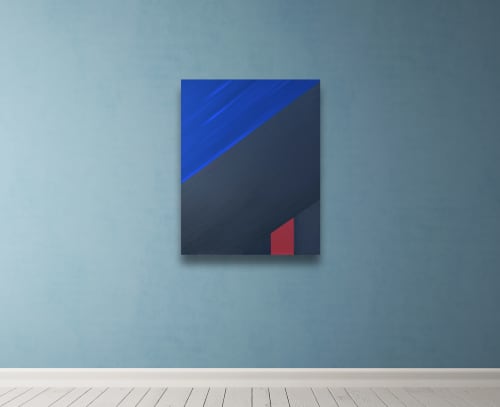 "Run Like Hell" - Paintings
Original contemporary abstract oil painting.
TITLE: "Run Like Hell"
The Wall Collection - Painting 12 of 26
At this stage of story, Pink has transformed from a passive, burdened and emotionally beaten man into a fascist persona. The narrative has shifted to a more threatening "you" - threatening physical violence to anyone who steps out of line.
The song is about order, control, authoritarian rule. Pink's persona just prior to this not only blames the world for his state, but now he turns up the self-righteous ego by actively forcing everyone to become like him or suffer the consequences.
The hard edges, starkness of the black and controlled feel of the painting is my way of representing this song. The feeling of everything being in order or under control is on the surface, yet there's a sense of bottled up chaos, waiting to explode.
SIZE: 40"(h) x 30"(w) x 1.375(d)" - Heavyweight Cotton Canvas, Gallery Wrapped & Stretched. Sides are painted according to the design of painting. Framing is optional.
MEDIUM: Professional grade oils. Gallery wrapped, stretched cotton canvas. Sides are painted consistent with design of the painting - framing is optional. One coat of gloss varnish applied to protect the painting from UV rays and dust.
Shipping details will be availabe during checkout.
| Dimensions | Weight |
| --- | --- |
| 40H x 30W x 1.375D in | 10 lb |
Returns accepted within 10 days
See details
Have more questions about this item?