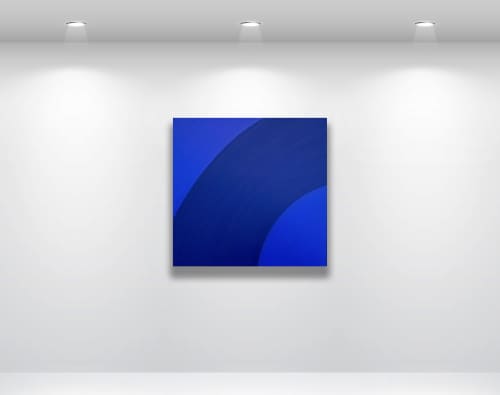 "One Of My Turns" - Paintings
"One Of My Turns"
The Wall Collection
36" x 36" x 2"
Oil on Canvas
The 15th painting in The Wall Collection. "One Of My Turns" is about Pink's suspicion / discovery of his wife's infidelity. He invites a groupie back to his hotel room, but proceeds to erupt emotionally, showing the turmoil teeming just beneath the surface.
Pink lapses into a trance-like state of personal reflection sparked by the discovery of his wife's infidelity. There's a quiet calm in the beginning which I've tried to capture in this painting with the color palette and simple movement. However, this is a tipping point in the story as the discovery of his wife's "betrayal" triggers Pink to move / drift into darkness. It leads him down an accelerated path of emotional decay with more bricks in the wall.
I've captured the meaning of this song in my own abstract way. The quiet calm before an explosive outburst. A dark, but emotional color palette and feel. The movement, more than anything, shows uncertainty - not knowing where you're going or what will come next.
There are 6 layers on this painting which is not something I typically keep close track of or count. The first 4 are several different blacks which gave the top 2 layers of blue a somewhat metallic or more subdued feel.
Medium: Professional grade oils. Heavyweight cotton canvas, gallery wrapped and stretched. One coat of gloss varnish. Sides are painted consistent with design - framing is optional.
Shipping details will be availabe during checkout.
| Dimensions | Weight |
| --- | --- |
| 36H x 36W x 2D in | 11 lb |
Returns accepted within 10 days
See details
Have more questions about this item?