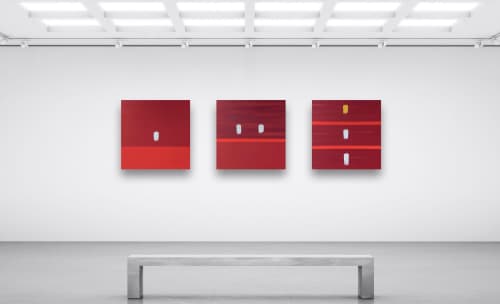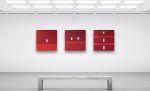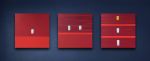 "Another Brick In The Wall Part 1, 2 and 3" - Triptych - Paintings
Another Brick In The Wall - Part 1, 2, & 3
The Wall Collection
Triptych: 30" x 30" x 1.375" (3 Panels)
Oil on Heavyweight Cotton Canvas
These 3 songs capture a progression into isolation. A triptych seemed to be a clear way to capture the story. Below are the details of each piece and corresponding song.
Part 1: Young Pink begins building a mental wall between himself and the world, distancing himself from the pains of life, such as having to grow up without a father.
Part 2: Pink continues to speak out against the cruel teachers of his childhood, whom he blames for contributing to more bricks in his wall of mental detachment.
Part 3: Spurred on by the latest brick in his wall - the revelation of his wife's infidelity - Pink decides to completely isolate himself from the injurious world.
Each of the 3 songs capture significant painful events in Pink's life which correspond with his downward spiral.
I identify significantly with Pink's life. At 39, I was completely isolated. After experiencing pain and trauma in my childhood, teenage years and early adulthood. As a result, I built mental walls to help me cope. I turned to drugs to numb the pain which only made the walls higher.
The final brick was when I left my home due to my addiction. I knew in my heart it was over between me and my wife. The third mark or swipe on Part 3 represents the finality of the last brick in my wall, hence the different color.
Fortunately, I was given a second chance and found recovery 11 years ago. Through the recovery process, I've had to face my past and the pain that led to me building my mental walls. As a result, the walls have gradually come down.
Sides are painted consistent with design of the paintings. Framing is optional.
Medium: Professional grade oils, Heavyweight Cotton Canvas - gallery wrapped and stretched. Gloss varnish.
Shipping details will be availabe during checkout.
| Dimensions | Weight |
| --- | --- |
| 30H x 90W x 1.375D in | 15 lb |
Returns accepted within 10 days
See details
Item
"Another Brick In The Wall Part 1, 2 and 3" - Triptych
As seen in
Creator's Studio
, Nyack, NY
Have more questions about this item?