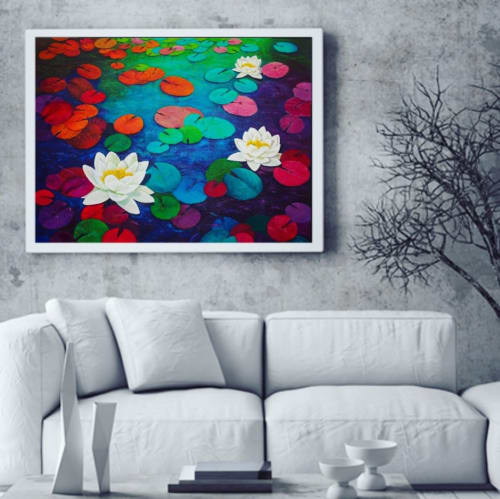 Context & Credits
As seen in
Private Residence
, Dubai, United Arab Emirates


+3

$1,000-$1,500
Price is inclusive of Shipping but excludes any external framing. Commissions open for this piece. Price would vary upon size desired.
Inquire about Comissioning a Custom piece
Commission time: 3-4 weeks
Item Details
Acrylic on Stretched canvas- 30x36 inches
In this world so tainted, how does one emerge spotless and clean? Do we let ourselves get drowned in the filth or do we emerge without blemishes? Water lilies are the perfect depiction of purity. Though it grows in stagnant muddy waters, the flower is pure and free from any blemish.
In addition, the Hindu and Buddhist cultures, consider the white water lily in particular a symbol of purity.
May this painting be a constant reminder of our integrity and virtue!