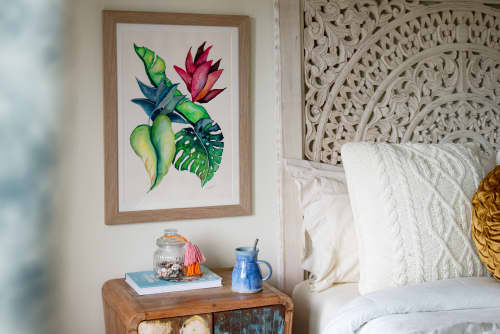 Image credit: Rederi Perez @rperez_photography
Botanical Medley - Paintings
BOTANICAL MEDLEY is one of my favorite watercolor works to date. Created in 2018, it paved the way for pieces like: NEW BOTANICALS, IN THE GARDEN, and BOTANICAL BLEND, which are also inspired by my favorite plants, colors, and people. Created shortly after visiting the Honolulu Museum of Art, I was awestruck but the small but powerful exhibit of Georgia O'Keeffe paintings. After learning she had spent time in Hawaii, much of her work grew deeper in meaning to me. BOTANICAL MEDLEY honors her influence and is a collection of my favorite local flora. The Ti leaves are from our lanai and hold great significance to the people of Hawaii. Banana leaves remind me of my homeland Panama, and the Monstera, which I wanted to have stars hidden in its leaves, would eventually inspire another painting about a year later, GALAXY MONSTERA. It continues to be one of my most collected works and is a favorite of my family.
Please contact me directly prior to purchasing to calculate shipping as this item requires special handling.
Have more questions about this item?