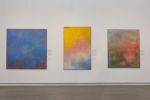 +3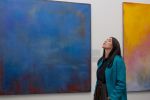 Featured In Art Museum of Georgia, T'bilisi, Georgia
Inquire about Comissioning a Custom piece
Acrylic, oil on canvas.
Orally narrated from generation to generation, the legend of Ainalaiyn tells a story of love, sacrifice, and mystical beliefs. Known and remembered by few, the artist brings to life a mysterious shamanic ritual that dates back to pre-Islamic times.
The legend goes that ancient shamanic tribes would fervently seek out a child within the community; one who would be the most beautiful, the healthiest, the purest, and the strongest: one who would be called Ainalaiyn.
Treated with reverence, the child would be cherished and deemed as the dearest and most precious treasure. With his coming of age, a ritual would be performed during which members of the tribe would walk around a pole, hand in hand with Ainalaiyn. The child would then be sacrificed as an offering to the world of the divine.
With shamanic tradition fading away, the word Ainalaiyn started being used to express tender and loving emotions equivalent to "my beloved" or "my dearest." Some believed that by going around a sick or struggling person, their misfortune and suffering could be transferred onto those performing the ritual. Ainalaiyn became a concept of self- sacrifice.
The artist imagines and interprets the meaning of the ritual for the steppe's tribes. Riddled with mixed emotions, this dramatic but beautiful celebration represents the intense process of giving up something or someone you profoundly cherish for a greater purpose.
Have more questions about this item?