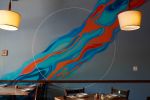 Featured In Blue Line Pizza, Mountain View, Mountain View, CA
These site-specific interior murals and sculptures in similar motifs by artist Erik Otto, are the result of a design solution to a franchise identity problem. When establishing the overall art direction for this growing restaurant chain, Blue Line Pizza wanted to create continuity between locations but, on the other hand, they wanted to produce a memorable dining experience. The result was a collaboration with Otto who created these works of acrylic and aerosol on walls measuring 16 x 16 ft.
Have more questions about this item?