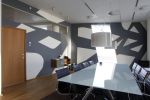 +5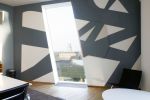 Infinite Structure - Murals
Featured In Hellerup, Denmark
Horten Lawfirm asked me to do 2 murals in their meetingrooms. When they saw the sketches, i was very surprised they accepted my proposal. I thought it was too bold. I took over the entire rooms with interlocking patterns painted directly on the walls, mixed it up with 2 minimal paintings on fibreboard standing out from the wall, to get a little bit of a puzzle-feel to it. Afterwards they tell me that the artworks are a bit of an icebreaker when guests come to visit the first time.
Unfortunately you can not see the work from the street.....
Have more questions about this item?