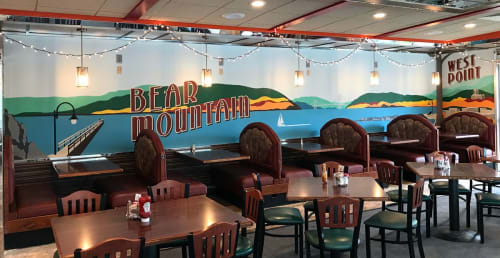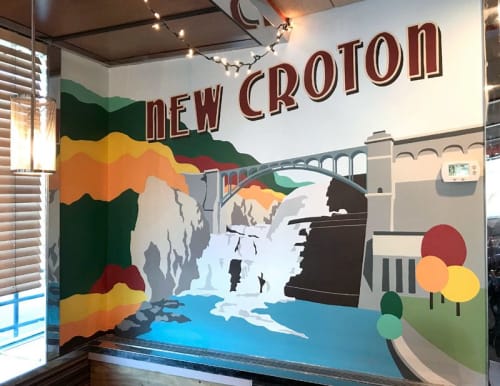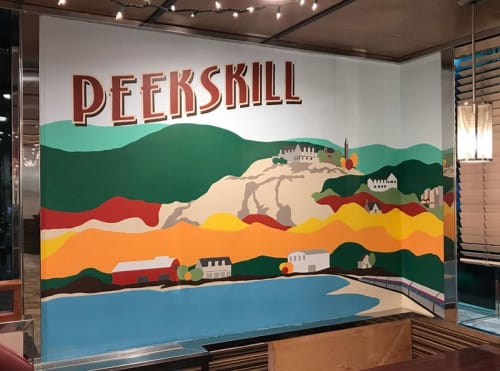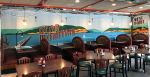 +1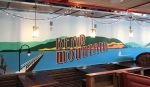 Bear Mountain Landscape Mural
The quaint town of Peekskill, New York, is situated along the Hudson River, with beautiful views across the water to Bear Mountain State Park. While Peekskill's classic roadside eatery, The Westchester Diner, does not have a view of the river, its patrons can still be surrounded by the local landscape with these custom wall murals.
When renovating the restaurant, the owner commissioned Toni Miraldi to design and paint four scenes from the Peekskill region to decorate the walls of the main dining room, and to reinforce the diner's place in the community. Inspired by the mid-century style of building, Miraldi looked to travel postcards of the 1950's, and incorporated tourism-style text into the murals.
The 28-foot back wall of the room features Peekskill's grand vista across the Hudson River. The other walls depict nearby destinations, roughly in the direction the walls themselves are facing: West Point, Peekskill as seen from the river, and the New Croton Dam.
The murals grab your attention as soon as you walk in the door. They transform a previously nondescript space into a room that welcomes diners, invites them to settle in, have a cup of coffee, and enjoy the view.