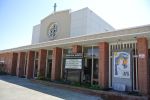 +2

The Visitation Tile Mural
Featured In Church Of Visitacion, San Francisco, CA
The Visitation Tile Mural, found at the Church Of Visitacion accompanies a very modern church structure. Created by Stefan Salinas, this piece depicts God the Father who is represented by the Eye of God at the upper left corner, shining down upon Mary. This porcelain, kiln-fired piece also illustrates various flowers that mean different things in the Roman Catholic language.
Tile production by http://tilemuralcreativearts.com/
Wall design & construction:Jesus Lara, Miguel Campos & Stefan Salinas.
Have more questions about this item?