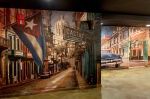 +8

Casta's Rum Bar Murals
Featured In Casta's Rum Bar, Washington, DC
Inquire about Comissioning a Custom piece
A refreshing respite from the hectic city, Casta's Rum Bar is bedazzled with authentic-Cuba-inspired murals and finishes. The client, Arian Castaneda, originally from Cuba, wanted to recreate his home in Washington, DC and we were esoteric in our translation. Old elevator door were transformed with a faux wood grain technique and plaster walls were glazed for a rustic effect. Casta's is now a beloved favorite to the West End.
WHAT
100' of exterior murals
14' interior mural
Plaster
Wood Graining
Have more questions about this item?