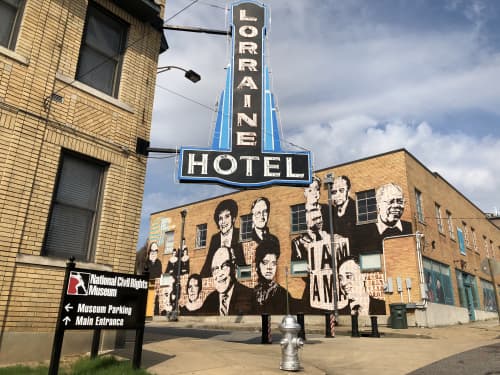 Image credit: Nelson Gutierrez


This mural is a collaboration with Cedar Nordbye to honor community-nominated Upstanders, extraordinary Memphians who embraced the challenge to speak out, stand up for others, and make decisions that have helped to create a more inclusive, just, and compassionate Memphis. We photographed local Memphians and compiled their portraits into a photographic mosaic, depicting the fourteen Upstanders as members of a community, as agents of change in a vast network of engaged citizens. Located across the street from the National Civil Rights Museum at the Lorraine Motel, the Upstanders Mural is seen by hundreds of thousands of visitors to the museum and South Main District every year. The mural expands a conversation on courage, community, and transformative action sparked by the legacy of Dr. Martin Luther King and other civil rights movement change-makers. Mural commissioned by Facing History and Ourselves with funding from the Downtown Memphis Commission. The Memphis Upstanders mural was recognized by the Public Art Network Year in Review, as one of the best public art projects in USA in 2017.
Have more questions about this item?