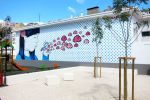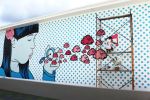 +2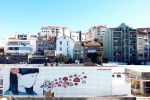 A BREATH OF FRESH AIR - Murals
Featured In Mercado do Forno do Tijolo, Lisboa, Portugal
Early hours, late nights, new friends, and unexpected moments helped me understand the power of murals in connecting the unconnected. The municipality of Lisbon invited me to add something to a neighbourhood they were already breathing new life into. Across from the wall hung hundreds of balconies, with families getting comfortable while they watched the mural unfold. Kids played in the playground opposite, until their excitement got the better of them and the park was closed until I finished up. My first large wall, and an experience I will never forget.
Thanks to my new friends Susana, Claudia, Rui, Adamo, Augusto, and Marcia for creating something special.
Have more questions about this item?