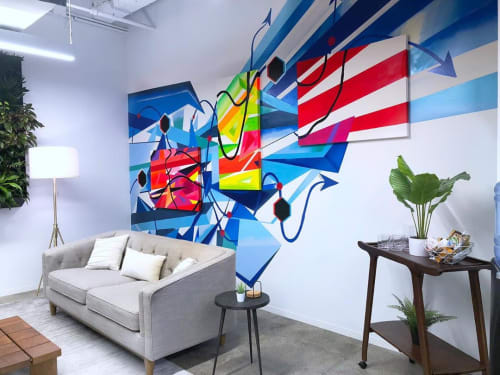 +1

Mural (company colors & logo)
Creator not accepting inquiries
Last 2018 MURT painted this mural where the company colors, logo and brand are incorporated. [image1] Last year, Celonis redefined new colors and brands. Pretty incredible they went from shades of blue to new bright pinks, neon greens and an overall vibrant bold look. The challenge is that Celonis NYC wants a way to represent that rebrand in this mural.
What MURT did was to incorporate the new brand onto the wall without actually painting over the mural. He put up canvases and painted the new colors and shapes to highlight the transformation of the company. Showing both old vs new, this was the best way to showcase change and also give a unique pop-out effect.[image2]...
The results were filmed by Hamza Masood.