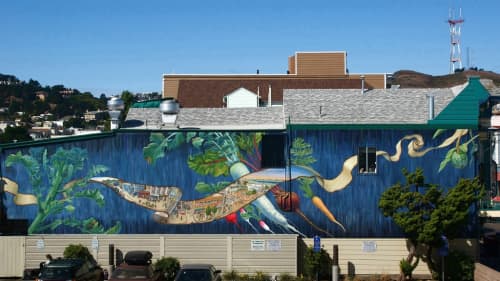 Noe Valley Mural- West Wall
Creator not accepting inquiries
This is the West side of a mural diptych at the site of a San Francisco farmers market. This side features contemporary views of two different parts of 24th Street, comparing the Noe Valley neighborhood with the adjacent Mission district.
The giant vegetables tie in to the farmers market that takes place in front of the murals on Saturdays. There's a big broccoli on the left, and a diverse array of root vegetables being uprooted where the Mission District is depicted.
On the left side of the ribbon containing the cityscape, above the fold, you can see the Noe Valley neighborhood as it appeared when I was working there. It is actually the view of what's directly across the street from the mural. On the right side, you can see the Mission District.