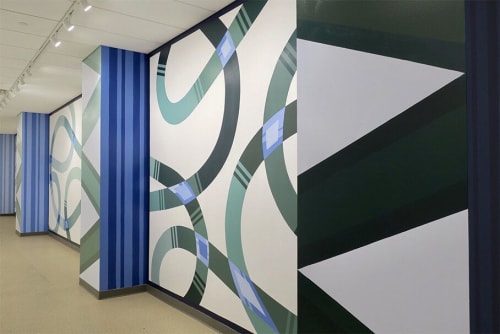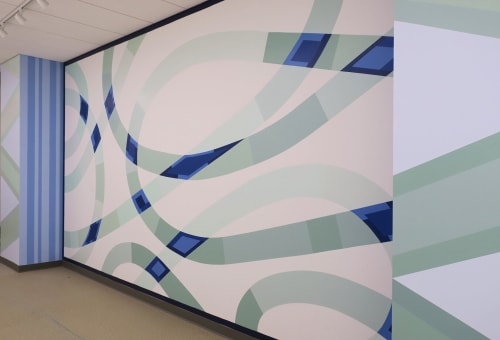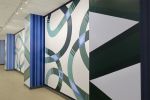 +6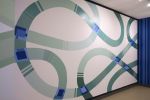 This creator usually responds within 12 hours.
Item Details
Sequence (triptych) As a self-described "non-objective artist", Stengel Bentley has devised a visual language comprising three elements: Line, Shape, and Color. She likens her creative method to that of a musicians-composer - Line and Color are layered into a visual rhythm that gives birth to Shape when competing rhythms intersect. Making a line dance is one of her fundamental goals; and she feels she has succeeded in this if she experiences the subtle "percussion" that manifests when two Lines cross and thereby create a new Shape.
Choosing "Sequence" as the title for the work derives from the many connotations of the word, particularly in the context of the mural's specific location in the Yale Science Building. Sequence is a process of advance, for example, for both scientist and artist - the former driven for the most part empirically, the latter propelled predominately by intuition. Stengel Bentley purposefully selected the mural's colors according to mathematically inspired color values. The result is a progression on intersections that not only configure as blue shapes but also evoke the famed Fibonacci Series (here excerpted as 13, 8 and 5) and its unmistakable association with the Phi, or Golden, Ratio whose immemorial mysteries pervade both order and process throughout animate and inanimate creation.
Additionally, the colors were chosen based on their connection to nature and universality - blue to represent the sky and green to represent the earth. And this precise shade of blue is important since it happens to evoke ultramarine blue which boasts symbolic connections to life, energy, and purity. Color, for both the artist and the scientist, is a physical sensation that can be both objective and abstract, communicating ideas that either transcend beyond the immediate experience of it or express profound, specific, even diagnostic meanings.
Stengel Bentley approaches her work in the conviction that artists and scientists are both seekers of truth. Somewhat playfully, she has composed her mural as an experiential exercise relevant to its setting: As observers enter YSB, color values progress from light to dark - from entropy to density, as it were. Upon exiting, the process is reversed, with this intended exception: the observer moves back again out of the building from its recesses of deep concentration and approaches the light of the entryway - progressing by degrees not into binding chaos but towards brilliance of inspiration.