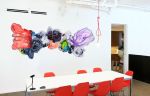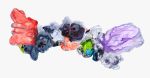 +2

Fluere 12 Painting Collage - Murals
Featured In Peterssen/Keller Architecture - Residential Architects, Minneapolis, MN
Custom Options Available.
Ask The Creator
For Customization.
FLUERE 12
Coral reefs inspired the organic shapes and patterns of this colorful abstract collage.
Media: Ink painting collage on shaped wood panel.
Size: 48" x 95" (as seen in photo).
Price: $6000
How Do I Make the Collages:
I create large ink paintings on plastic paper, the paintings are then cut into organic shapes and assembled.
Have more questions about this item?