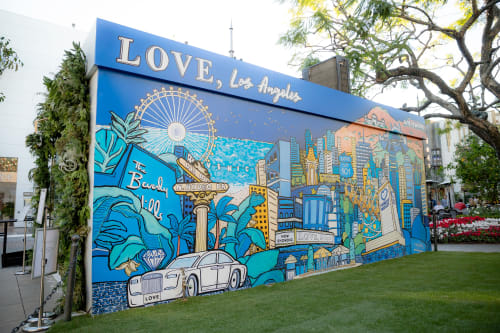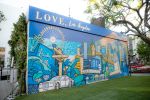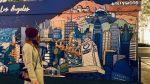 +5

Tacori x Who What Wear Pop Up Shop Mural
For the first two weeks in December, California-based jewelry line TACORI, famous for its hand-crafted designs and detailed engagement rings, took over the famed glass pop up space at The Grove in Los Angeles. The occasion was in celebration of TACORI's limited edition jewelry collection LOVE, Los Angeles, a collaboration with WHO WHAT WEAR.
To bring the LOVE, Los Angeles theme to life, TACORI commissioned Kasey Jones, Ink. to create a 22 x 9 ft mural of Los Angeles that would be installed on the outside wall of the Pop Up. I'm a born and bred LA girl, so designing this mural was a true labor of love and hometown pride for me, and intertwining KJI's signature use of bright pops of color and whimsical design with TACORI's limited blue and gold color palette was an awesome challenge. The end result was a cheery and charismatic cityscape that subtly intertwined the brand's logo, signature scallop design and campaign imagery within city landmarks including The Beverly Hills Hotel, The Grove, The Hollywood Bowl, Disney Music Hall, and The Venice boardwalk.
Since the mural was installed on December 1st it has served as an amazing photo opportunity for people shopping at The Grove and visiting the Pop Up. Seeing influencers, consumers and tourists alike share photos of the installation on their social media platforms has been an early Christmas gift to us at KJI. This Saturday (December 15th) is the last day of TACORI's Pop Up, so head that way to do some holiday shopping and check out our (very big) little love letter to Los Angeles.
Have more questions about this item?