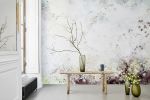 STORMY SKIES PANORAMIC - PAPER - Murals
Featured In Paris, France, Paris, France
Dimensions
Weight

2.7H x 2.1W x 0.2D in
6.86H x 5.33W x 0.51D cm

0.80 kg
1.76 lb
Illustre Paris panoramic wallpapers are a full-scale reproduction of a gigantic painting. The very high quality of the printing reproduces all the details: from the brushstrokes to the thickness of the gouache, if you look closely, you could be mistaken! For Ciel d'Orage, the palette is inspired by the Parisian skies. A mauve clematis brightens up the stormy sky with its dominant light colours.
Japanese anemones, wild grasses and wild rosebushes orchestrate themselves in a charming disorder evoking the charm of a dreamy garden in the heart of your home.
Dimensions W 1.40 m x H 2.70 m -small panoramic, 2 strips USD551 OR W 2.10 m x H 2.70 m - large panorama, 3 strips USD 828
Have more questions about this item?