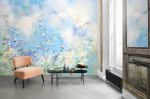 PRAIRIE PANORAMIC - PAPER - Murals
Dimensions
Weight

106.30H x 82.68W x 0.39D in
270H x 210W x 1D cm

1.7 kg
3.75 lb
A symphony of blues, celestial, deep ultramarine, turquoise or cobalt, colours a radiant sky, dotted with hollyhocks, forget-me-nots and wild peonies.
The PRARIE wallpaper is the inspiring promise of an impressionist paradise.
Dimensions W 2.10 m x H 2.70 m - large panorama, 3 strips (USD828) W 1.40 m x H 2.70 m -small panoramic, 2 strips 5 (USD551)
Have more questions about this item?