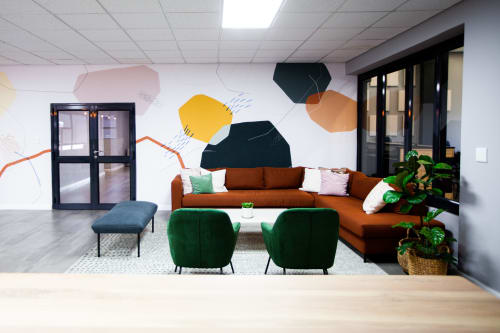 Image credit: www.vinylraephoto.com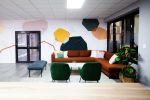 +8

One of a Kind item
Inquire about Comissioning a Custom piece
These walls were a space that became a form of visual story telling by conveying moments of interactions. Layering the color, considering the direction of line and forming organic shapes as well as intuitive and playful mark making.
I drew inspiration from nature, landscapes; the way the sky meets the earth to the movements of the ocean. I literally go through all my photos from the places I have been, and continue to submerge myself in nature as much as I can, walk on the beach and mountains nearby. Pools of color are extracted from nature by overlapping and separating. Red earthy tones of the Cedarburg to the ever-changing blues and greens of the ocean and tones of surrounding boulders. I take cues from my surroundings to create a feeling and sensibility within my paintings. The simplicity of line and a focus on color establishes a subject in itself.
When reflecting on the wall mural it has a sense and atmosphere of heaven and earth that moulds itself perfectly to the space it is in.
Have more questions about this item?