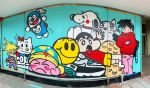 +2

"Things that make me happy part one" - Murals
Featured In Kinja Sushi Bar & Restaurant, Oakland, CA
Inquire about Comissioning a Custom piece
bringing life to boarded-up buildings in the times of covid.
⠀
This is a bunch of characters and things that make me happy. hope they make others happy too.
Mostly rooted in Japanese characters, thought this would be a fitting theme for a sushi restaurant.
Have more questions about this item?