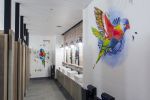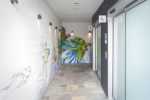 +1

Rainbow Lorikeet and Kookaburrra Mural
Featured In Westfield Miranda, Miranda, Australia
I was commissioned by Scentre Group via Sydney Street Art Project to create a series of murals for the amenities building on the rooftop of Miranda Westfield. The theme for the project was inspired by native Australian birds: the Rainbow Lorikeet and Kookaburrra, both a well-loved bird species in Sutherland, Southern region of Sydney.
The story of the mural shows a flock of rainbow lorikeets in the midst of flying into the amenities block. As they venture inward they find their colours and personalities - starting from greyscale through to vibrant blues, greens and warm tones.
Item
Rainbow Lorikeet and Kookaburrra Mural
Have more questions about this item?