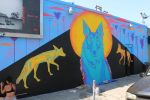 +7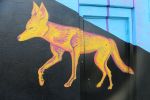 'Coyote Fever' - Murals
Featured In Little Joy Cocktails, Los Angeles, CA
In August 2018 Cecilia and her twin sister Beah Romero were given the opportunity to beautify the outside of Little Joy, a bar in Echo Park, California. They collaborated on this design with the shared vision of creating a mural that would pay homage to the neighborhood they grew up in. The Coyotes, silhouettes of the palm trees and telephone poles represent the wild things under the California sun and the vibe of the city where Little Joy resides.
The middle coyote was painted by Cecilia, the two coyotes on the sides were painted by Beah and the whole background by both of them. This mural was there for a year but now is no longer, as the owners plan on changing it up every year for the Echo Park Rising music festival.
Have more questions about this item?